GOURMET FUNDRAISING PRODUCTS
It Just Doesn't Get Any Better Or Easier Than This!
GOURMET COOKIE DOUGH TUBS - 10 DELICIOUS FLAVORS
3 lb. tubs or 36-1.2oz pre-portioned.
Suggested Retail Selling Price: $12.00-15.00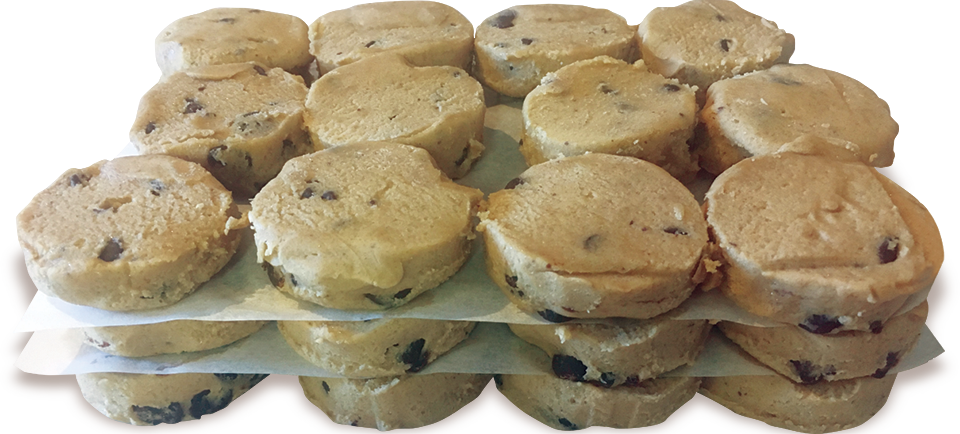 A Chocolate Lovers' Dream! We've combined three different chocolates so every mouthful will explode then slowly met into a luscious chocolatey delight. Simply Irresistible.
If you love toffee like most folks love toffee, these are the cookies that will satisfy your tastebuds. They're so full of sweet, crunchy Heath® bars and rich pecans that they probably won't make it to the cookie jar.
Colorful! Groovy! Children of all ages love the whimsical mix and match of colors flashing in ample quantities of M&M's and heaps of chocolate chips. The perfect party, picnic and just-any-time fun cookie.
Tantalizing! Irresistible! Warm-from-the-oven, these real crowd p leasers are teeming with wholesome oatmeal and sun-drenched California raisins. You've never tasted Oatmeal Raisin cookies like these.
Moist! Crunchy! Just like Mom made – full of peanut chunks and creamy peanut butter. Push down the dough with the tines of a fork for that authentic, hallmark look of true peanut butter cookies.
A cookie with a sturdy homespun character! Peanut butter coupled in scrumptious merriment with mouth-watering chocolate chips & bursting with flavor. Cookie lovers can't get enough!
A Grandma's favorite. A simple sweet cinnamon cookie. You can't eat just one.
Simple to Sublime! Add your creative juices to these divine world-class morsels. Ice 'em! Cover 'em with sprinkles! Mold 'em! Shape 'em a 1,000 ways with cookie cutters! Once you've tasted these sugar cookies, you'll be addicted.
White Chocolate Macadamia
Exquisite! Luscious! Velvety white chocolate chips and chunks jostling with premium Hawaiian Macadamia nuts in a creamy "to-die-for" dough. These cookies grace the tables of royalty and common folks alike.
GOURMET FUNDRAISING PRODUCTS It Just Doesn't Get Any Better Or Easier Than This! GOURMET COOKIE DOUGH TUBS – 10 DELICIOUS FLAVORS 3 lb. tubs or 36-1.2oz pre-portioned.Suggested Retail Selling Price: $12.00-15.00 CLICK HERE FOR A FREE INFORMATION PACKET
Read More »